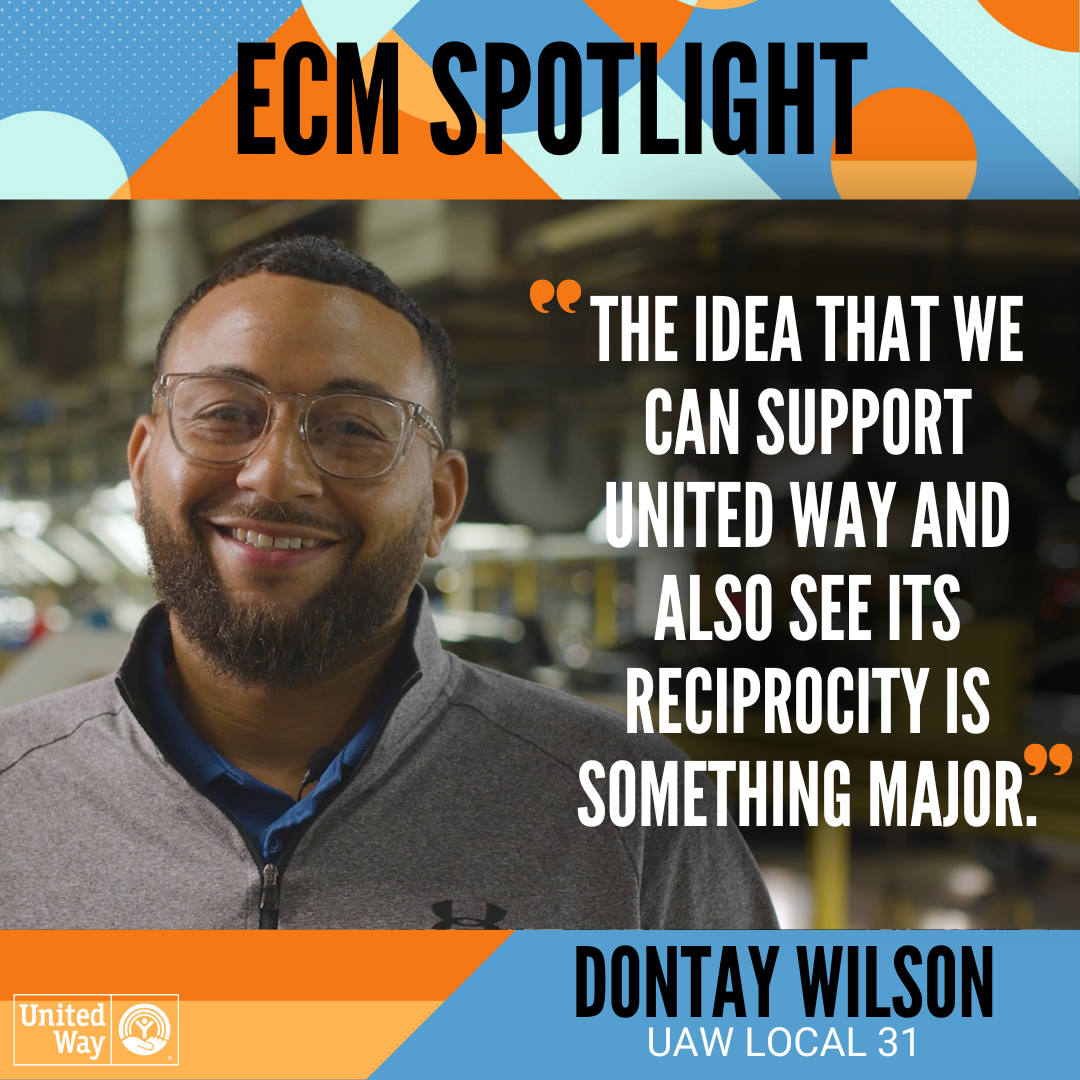 This month, we are honored to feature Dontay Wilson as our ECM Spotlight. Dontay has been a dedicated United Way Corporate Champion and currently serves as President of the UAW (United Auto Workers) Local 31. The UAW Local 31 proudly represents over 5,000 active and retired workers at the General Motors Kansas City Fairfax Assembly Plant.
Over the years, Dontay has witnessed how United Way has been a fixture in the Kansas City community. He has a unique perspective as a Corporate Champion who not only raises funds for United Way through workplace campaigns. Dontay has also witnessed firsthand how United Way services, such as 2-1-1, have supported the UAW membership in times of need. "There's no secret some of the challenges that we dealt with as a country the last few years, and specifically here at this plant – going on strike in 2019, COVID 2020 and 2021, and United Way was huge in helping our people out." During those times, UAW members were down a shift, or out of work completely. "[Our members] fell on some hard times, and United Way stepped up."
Through their unwavering commitment, the UAW Local 31 has become a catalyst for change, bridging support and compassion within his workplace. "The idea that we can support [United Way] and also see its reciprocity is something major." As a Corporate Champion, Dontay organizes workplace campaigns, engages colleagues, and sparks conversations about the transformative work done by United Way to encourage giving. "We walked both shifts — every single job, to talk about the United Way checkoff option. When given the opportunity to give back, the UAW Local 31 membership did so overwhelmingly. This just reinforces the core values of this membership: Service. Service to our fellow union sister/brother, service to other unions and above all, service to our community."
Dontay is a shining example of how one person's passion and dedication can bring about meaningful change within a corporate setting. By raising funds, supporting United Way's mission, and witnessing the transformative impact of the organization on this membership, Dontay has created a workplace culture that values compassion, support, and making a difference. "It's really a relationship that I'm really proud to be a part of, and I really want to help cultivate that in the future," says Dontay. "I can speak for the over 2,000 current members, and 3,500 active retirees. That's almost 5,500 people that they were in need of resources at some point. And United Way was there. And I know for a fact that they're doing that all over the country, not just here in KC." The United Way and UAW Local 31 partnership shines a light on the reciprocal nature of the community investment you make when you support United Way!