We are excited to celebrate our Community Waymakers™ during #NationalVolunteerWeek! Thank you to everyone who submitted their nominations for those they felt are making waves in our community. Waymakers™ are Kansas Citians who actively volunteer their time to improve and uplift our community with various organizations in Kansas City.
Here are 2023 our Community Waymakers™:
JULIO
We were honored to celebrate Julio as one of our Community Waymakers™ of the Year with a surprise visit to his school. Surrounded by his school principal, teachers, and staff from Redemptorist, we gifted Julio with 2 passes to Worlds of Fun and gift cards to show our appreciation for his commitment to volunteering.
Julio has been volunteering with the Redemptorist Center since he was a freshman. His school requires that students have 80 total volunteer hours to graduate, and Julio has completed over 350 hours at Redemptorist alone!
"Julio is a special young man. He fell in love with his call to service. Not only did he complete his hours for the intern program, he would return to the center after school hours and Saturdays to work the food drops that would help feed families that can't make it to the pantry during business hours. He also would stop by and ask what do you need help with?" said Carol Lillis of Redemptorist. "He also spent his Christmas and Thanksgiving holidays helping us make sure that families received their holiday meals and gifts for the children. No matter what needed to done. Julio is there with a smile on his face, doing whatever was asked of him."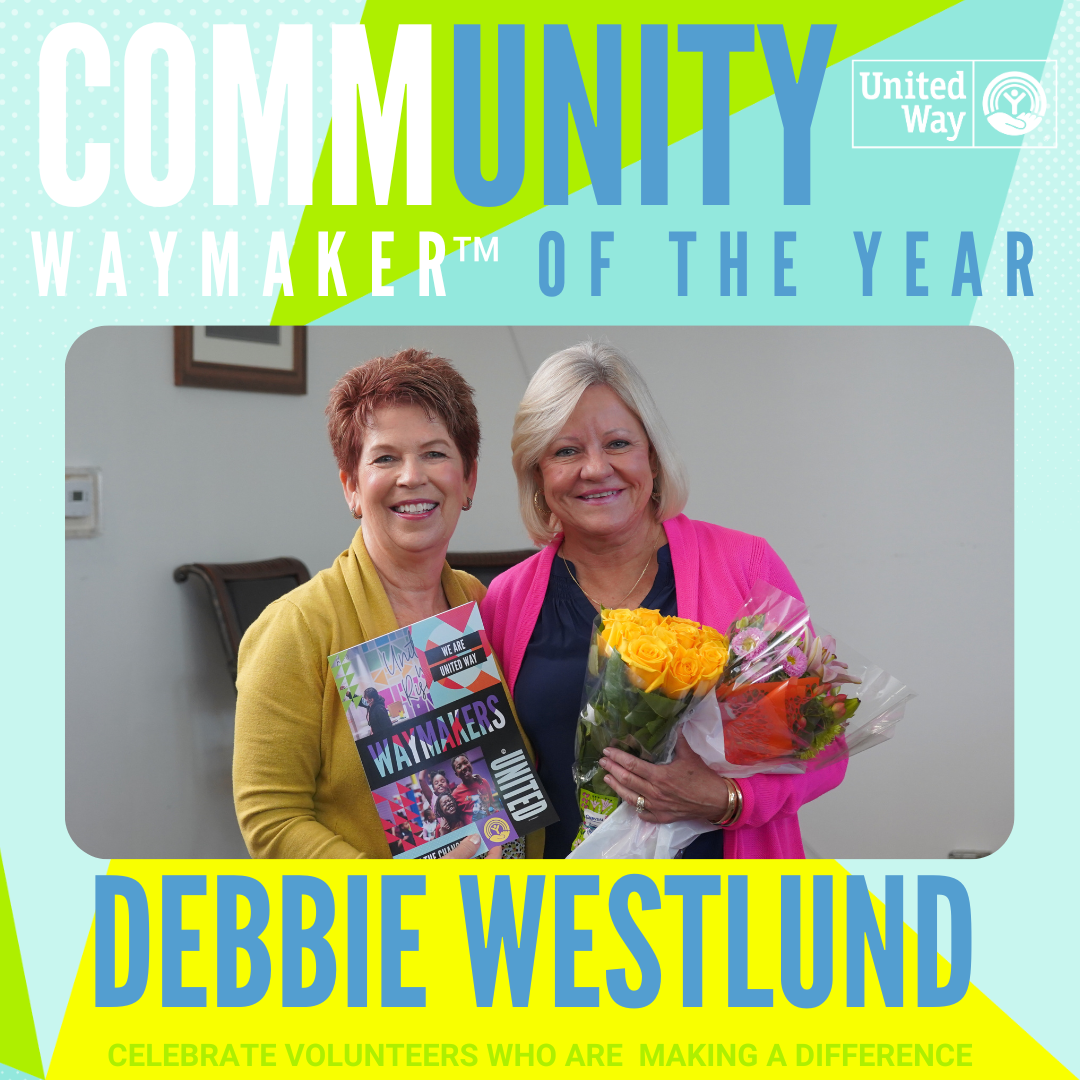 DEBBIE WESTLUND
We are honoring Debbie Westlund as Community Waymaker™ of the Year for her dedication and commitment to our community. Debbie is a prominent volunteer at Avenue of Life KC and leads their Holiday volunteer programs.
"We are grateful for Debbie's generosity and compassion. She has impacted thousands of children through her love and kindness", said Desiree Monez, Executive Director at Avenue of Life. Thank you, Debbie!
ALYSSA KEENER
Alyssa Keener has worked with Metropolitan Organization to Counter Sexual Assault (MOCSA) as a Volunteer for over two years. Alyssa is a Crisis Line Volunteer, helping to man their 24-Hour hotline for survivors. In this critical position, Alyssa works evenings and overnights to make sure survivors in our community always have someone to turn to.
While Volunteering, Alyssa utilizes de-escalation techniques, is responsible for detailed call documentation, and diligently preserves client confidentiality. Alyssa approaches this multi-faceted position with dedication and selflessness, and her work has impacted the lives of countless survivors. In her time as a Volunteer, Alyssa has donated over 2,140 hours to MOCSA. In 2022 alone, Alyssa donated 1,677 hours – more than twice the amount of any other Volunteer!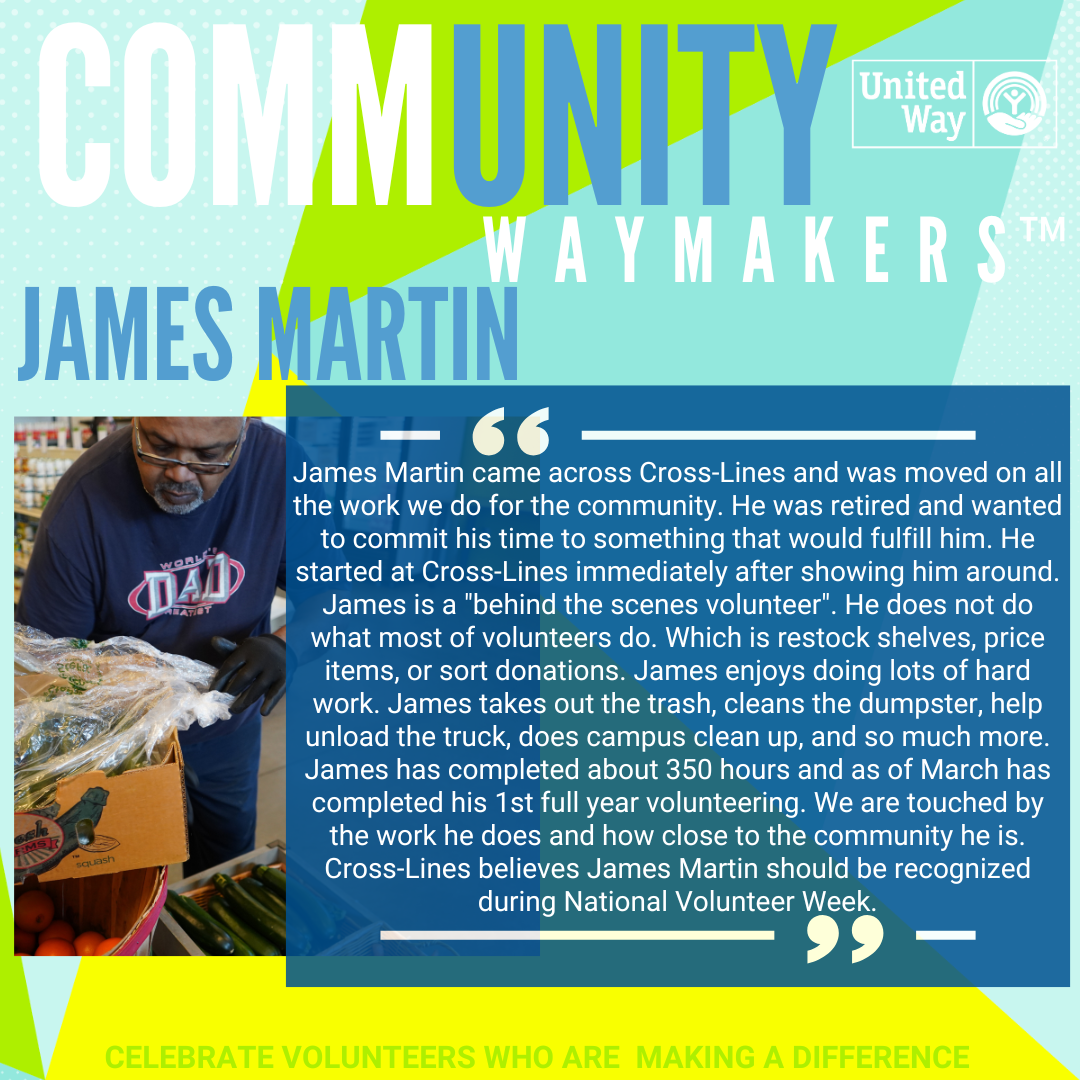 JAMES MARTIN
James is retired and wanted to commit his time to something that would fulfill him. He started at Cross-Lines Community Outreach immediately after showing him around. James is a "behind the scenes volunteer". He does not do what most of volunteers do, which is restock shelves, price items, or sort donations. James enjoys doing lots of hard work and takes out the trash, cleans the dumpster, help unload the truck, does campus clean up, and so much more. James has completed about 350 hours and as of March has completed his 1st full year volunteering!
DONNA JACOBSON
Donna Jacobson volunteers for several organizations including animal rescue groups, local schools, and food pantries. She has been a prominent volunteer for Ronald McDonald House Charities of Kansas City and offers support in many roles including house warmer, meal groups, community ambassador, and events. Donna says that now more than ever, it has become vital to be a cohesive community. Volunteers are essential in all realms of societal support. Her intention is to share how volunteering has made her life something to marvel at.
JESSICA EARNSHAW
Jessica Earnshaw dedicated her life and career to being the kind of person that embodies a Waymaker™. She has worked in development and event planning for Leukemia & Lymphoma Society and Wayside Waifs, as well as served as the Executive Director of Charlie's House. In her current role as the Associate Vice President of Community Relations and Giving at the YMCA of Greater Kansas City, she is focused on building funding and community collaboration to sustain YMCA programming, including working with GEHA and the Hunt Family Foundation to launch the Joe Delaney Learn to Swim program, presented by GEHA, to address water safety and reduce barriers to active living for historically underserved communities.
Jessica has dedicated hundreds of hours a year and thousands of hours over the last decade supporting multiple organizations in fulfillment of their mission to make Kansas City a better place for everyone to call home.
MEGAN MORGAN
Megan is being recognized for improving the Independence Plaza neighborhood. Megan wrote a grant that was awarded last year and has helped beautify the neighborhood through the Vision Zero Initiative. She also canvassed the whole neighborhood to help promote their first annual Block Party. Megan doesn't think twice about signing up to watch our monthly dumpsters to help keep our neighborhood clean but has continued supporting our neighborhood's growth while she started her MBA program.
VELLA HUGHES
Vella has volunteered with Harvesters–The Community Food Network since 2009, and she has been a volunteer Head Coach with Girls on the Run Serving Greater Kansas City since 2019. Vella is most passionate about her work through 'Girls On The Run' empowering young girls to be future leaders. Many community members have seen firsthand the difference that she has made in the lives of girls in the communities that she grew up in. She puts in several volunteer hours each season through this organization.
DEB RUTH
Deb has been serving regularly with Harvesters–The Community Food Network for the past few years. She went from an occasional volunteer to coming in four days per week, four hour shifts each time. She is a hard worker, always has a smile on her face and brings so much joy to the team of volunteers she works alongside. She has also publicly represented Harvesters in media interviews and is passionate about helping end hunger in our community.
TRISH SOLTYS
Trish has been a volunteer for Redemptorist Center since it first began its journey in 1986 and has served on their board throughout the years. Trish and her husband Damon volunteer at all our of mobile food distributions- rain, heat, sleet, snow and freezing cold temps. When there is a need, she will quickly ask what we need to do to make it happen. Recently, the Center was asked to assist in a mobile distribution with Mt Sinai and Trish quickly volunteered to help. From events to client needs and assisting in the food pantry- if there is a need, Trish is there to help
DR. JAMEE RODGERS
Jamee works daily to serve communities with purpose on purpose. He makes an active effort to visit communities in the urban core of KC and listen to what the needs are. Then he works very hard to connect the community with a resource to help them. I've seen him on several occasions go above and beyond to make sure a family was taken care of. He serves 20 communities south of Truman, north of 52. East of Troost, west of Prospect. He works with several area schools, and impacts thousands of residents on the east code of Kansa city. We are grateful to have him in our city and leading our team!
ASHLEY VEURINK
Ashley is a dedicated Head Coach for Girls on the Run in Kansas City. She is leading the Faxon Elementary team for the third season as Head Coach. She spends at least 4 hours a week working with the team, which consists of 3rd-6th grade girls. Her patience, dedication, and upbeat attitude are motivating to watch at practice!
DEEDRA ECCLES
Deedra has been a volunteer with Junior Achievement of Greater Kansas City for many years in local Elementary Schools. In the last two years, she has taught 18 classes for a total of 90 hours, and has reached over 300 students with lessons on Financial Literacy, Work & Career Readiness and Entrepreneurial Mindset. She is always willing to take on more classes to be sure all of the students are learning Junior Achievement programs.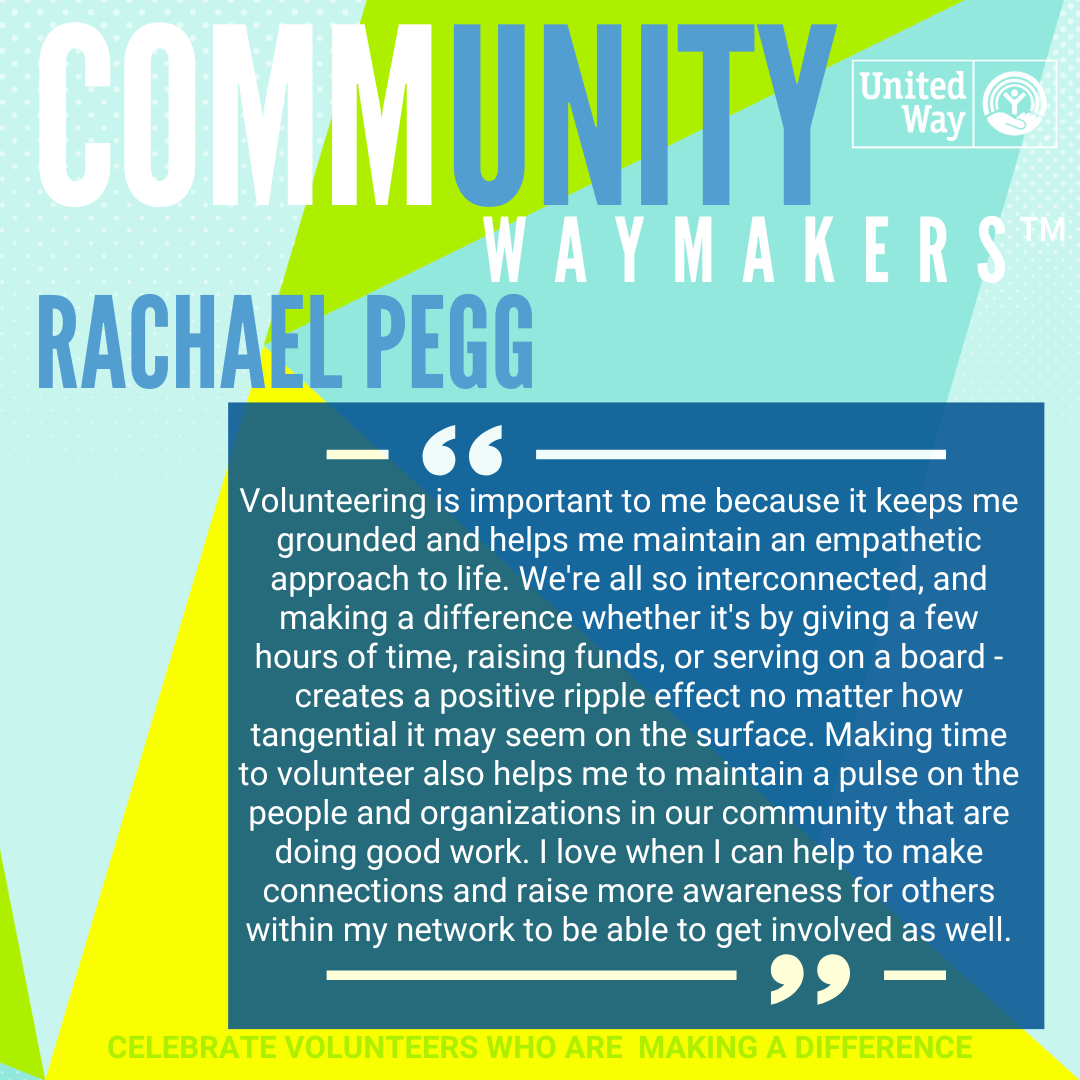 RACHAEL PEGG
Rachael serves on the Centurions Leadership Program and she is close to achieving 200+ service hours during her time in this program. She has volunteered with dozens of nonprofits and truly lives out the "time, treasure, and talent" our sector needs! Most recently, Rachael served as a Guest Bartender for the Newhouse Pop-Up Bar raiding over $12,000 with her partner and garnering dozens of new donors for our agency.
Rachael has served on the Big Impact Board for Big Brothers Big Sisters and annually raises funds during their Bowl for Kids' Sake event every summer. You can always find Rachael working with the youth at MINDDRIVE helping with marketing their work, doing behind the scenes projects, and overall being a cheerleader for their efforts. Other nonprofits she has worked with or currently works with include Project UPLIFT, American Heart Association, Aussie Strong Foundation, Underground Social KC, and more!